By Liz Ford for The Guardian
Womankind rights organisation wants donors to commit to long-term funding to achieve lasting change at local level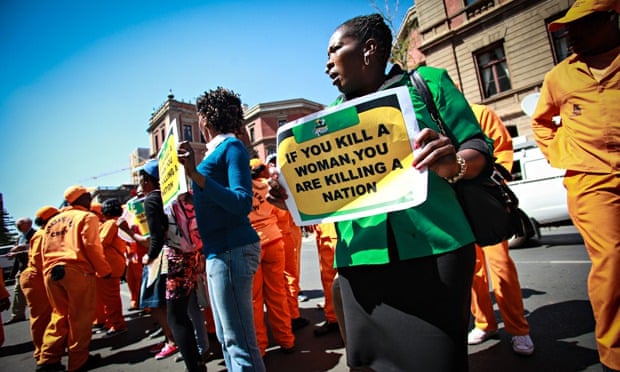 Women's rights activists outside the high court in Pretoria, South Africa, during the trial of Oscar Pistorius in September 2014. Photograph: Kevin Sutherland/EPA
Women's rights activists are vital in preventing violence against women and girls, but a shortfall in funding to local groups is hampering their work, according to a report that calls on donors to provide long-term financial support.
On the international day for the elimination of violence against women on 25 November, women's rights organisation Womankind Worldwide is urging donors to pay more than lip service to the work of women's rights groups across the globe by committing to fund projects for at least 10 years. This, rather than the traditional three-year programme funding cycle, could provide a greater chance of achieving lasting change.
In its report, Prevention is Possible: The role of women's rights organisations in ending violence against women and girls in Ethiopia, Ghana and Zambia, Womankind also calls for funding applications to be made shorter, simpler and acceptable in any language, and for project evaluations to be more flexible. It calls on national governments to develop action plans to tackle violence against women, enforce legislation introduced to protect people from violence, increase comprehensive services to those who have experienced violence and address gaps in women's access to justice.
"Women's rights organisations are vital in ending violence as they understand the contexts they are working in and provide solutions which are firmly rooted in local communities," said Lee Webster, head of policy and communications at Womankind. "Their determined activism and innovative programmes have positively changed the lives of women and girls across the world. Yet they are severely underfunded, and it is time for donors to increase funding to these organisations.
"Women's rights organisations empower women and girls to claim their rights and mobilise communities to challenge discriminatory attitudes and behaviours that condone violence. But there is no quick fix to gender inequality; tackling it takes many years of working with communities."
The report focuses on three programmes – in Ghana, Ethiopia and Zambia – being implemented by local women's rights organisations. The programmes are in locations with high levels of violence against women and girls, with almost half of the women aged between 18 and 49 saying they had experienced physical violence since the age of 15. Violence from intimate partners was common.
Globally, almost a third of women have experienced physical or sexual violence at the hands of an intimate partner. An estimated 38% of all murders of women are committed by partners.
Ending violence against women and girls – Meron's story by Womankind Worldwide
While the research could not prove conclusively that the prevalence of violence had decreased in the communities in which the organisations worked, several of those involved in the programme judged that levels had been reduced.
"In all three contexts, there is evidence that the programmes have made significant contributions to shifting the knowledge and attitudes of several individuals with respect to gender roles and relations and VAWG [violence against women and girls]," the report said.
"The WROs [women's rights organisations] brought vital knowledge and understanding of the target communities and how to engage with traditional leaders and local decision-making structures, an ability to bridge the gap between women and formal decision-making structures, supported self-led change, recognised the importance of women's empowerment and participation, and a link to the wider women's movement working for change at a national level."
It added that the local organisations working in these areas had all invested a lot of time working with the communities. In Zambia, women's rights group Women for Change had worked in one community for more than 20 years. The group's founder, Emily Sikazwe, said finding local solutions to gender-based violence was more effective but took longer than some donors might expect.
"Gender-based violence is not an issue that in most cultures people talk about openly," Sikazwe said. "So it is important that people trust you enough to be able to bare their hearts to you, and that takes time. It's not just about the usual development workers who zoom in and zoom out, because they will remain forever strangers to those communities."
Over the past 18 months, violence against women and girls has received huge international attention. Last year's Commission on the Status of Women agreed a strong outcome document on preventing violence, batting away stiff opposition from some more conservative countries and a well organised lobby. The UK government has led two high-level meetings: a one-day conference to tackle violence in emergency settings in December last year, and the three-day ending sexual violence in conflict global summit in June.
In September, the Dutch and Danish governments gave their backing to a £12m fund to support grassroots organisations promoting sexual and reproductive health and rights.
"Despite the recent increased international focus on this issue, millions of women and girls continue to experience violence," said Webster. "However, violence is preventable. We need international donors and national governments to prioritise tackling the underlying causes of violence and support women's rights organisations – which have substantial expertise in this area – to carry out this long-term work."
A research series on violence against women, published by the Lancet on 21 November, showed that more emphasis needed to be placed on violence prevention, rather than dealing with the consequences.
This article was originally published here.